2012 Christmas Tree Ornaments and Snowglobes
Holliday Collectibles by Spode
Designed in 1938, Spode Christmas Tree is a unique Christmas dinnerware pattern that is loved the world over. Taking center stage on each item in the line is a beautiful Christmas tree with colorful  baubles hanging from the branches and a mound of presents underneath.
Spode has taken their signature Christmas Tree icon and placed it on these beautiful holiday collectibles. Along with the annual musical snowglobe and annual snowglobe ornament is a charming set of three ornaments each cut in a different shape and featuring a different design.
If you or someone you love is a collector of the Spode Christmas Tree pattern then these collectibles are a must for the holiday season. Even if you do not collect items from the Spode Christmas Tree line we are sure you will still adore and enjoy these pieces all season long.
When you purchase six or more Christmas ornaments, you will receive 10% off of each one.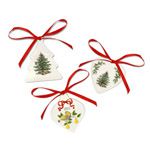 Set of Three Christmas Ornaments
$16.95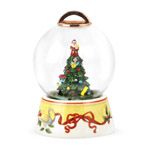 Annual Snowglobe Ornament
Sold Out!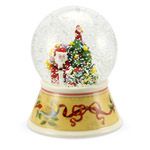 Annual Musical Snowglobe
Sold Out!

---
About Spode
Portmeirion Group acquired Spode in 2009. With an outstanding product range and rich history that complemented Portmeirion's existing brands, Portmeirion felt it very important to keep this great British brand alive.
Portmeirion Group is dedicated to the development of Spode, its product ranges and its valued customers. As such, Portmeirion has brought the manufacture of many items in Spode's iconic ranges back to Stoke-on-Trent in England; a decision that has been welcomed by Spode's customers and collectors, and the Stoke-on-Trent community.
Josiah Spode I (1733-1797) founded the Stoke-on-Trent based pottery company, Spode, in 1770. His inherent skills and sheer dedication to his business lead to two major achievements that would redefine the pottery industry; the development of a winning formula for fine bone china and the perfection of blue under-glaze printing.