Duckling
Stainless Steel Baby and Children Flatware by Oneida
The Duckling baby and child silverware items from Oneida are simply adorable. This collection features a single duckling cut out of the end of each handle, except for the child knife where the duck is solid.
The Duckling collection will grow with your little one from the infant stage to the toddler years and continuing into childhood. Start your boy or girl with the 3-piece Baby Set and then graduate them to the 3-piece Child Set. You can also purchase both of these sets together as the 6-picece Progress Set that comes in a nice gift box.
Considering pairing the Duckling flatware items with the Something Duckie or Farmyard Friends baby cup by Reed and Barton.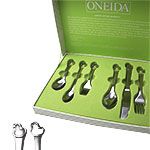 Larger Image
3-pc Baby Set Includes:
Infant Feeding Spoon
Toddler Fork
Toddler Spoon
3-pc Child Set Set Includes:
Child Fork
Child Knife
Child Spoon
6-pc Progress Set Includes:
3-pc Baby Set
3-pc Child Set