Provincial Silverware Chest
Flatware Chest by Reed & Barton
Composite wood with mahogany finish, deep drawer chest and tarnish preventive Brown colored lining. The bottom drawer of this chest is not divided. Flatware not included. The cherry finish is no longer available for this flatware chest.
Measures 17" x 11-1/2" x 6-3/4".
Holds knives up to 10" in length
Sku #: RBC570M
Add a nameplate with custom engraving!
Simply add a chest to your shopping cart and click on the link to view engraving options.
Nameplate measures 3" x 1-7/8"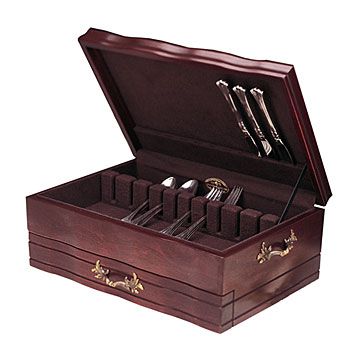 Larger Image