Fiesta Black
Dinnerware by The Homer Laughlin China Company
Here at the Silver Superstore, we carry every item in the Fiesta Black dinnerware line! The Fiesta dinnerware line allows you be be creative and show off a little of your personality. Go on, be bold; mix and match colors from the entire Fiesta dinnerware line. We recommend mixing Fiesta Black with Fiesta Turquoise, Fiesta Scarlet, and Fiesta White.
Fiesta Black dinnerware's styling complements a wide range of decors. The large array of items in the line provide maximum service options and ensure consistent tabletop styling. The plate's coupe shape allows maximum food plating surface; sculpted concentric rings highlight and frame the food presentation. Alpha Alumina added to the body enhances durability and provides superior heat retention.
This pattern has been discontinued by the manufacturer.
All pieces in Fiesta Black are:
Made in the USA
Lead Free
Dishwasher Safe
Oven Safe
Microwave Safe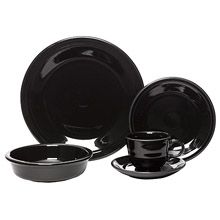 Larger Image
Fiesta - Black Dinnerware
4pc Place Setting Includes:
Dinner Plate
Salad Plate
Medium Bowl
Mug