Shell Serving Spoon HH
This piece has a sterling silver handle, and an 18/8 stainless steel stem and bowl. Shown here in Grande Baroque by Wallace Silversmiths.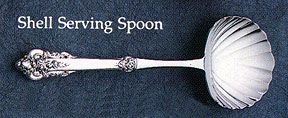 The Shell Serving Spoon makes a great buffet server, and for serving berries (including whole-berry cranberry sauce). If you like your cranberry sauce from the can, be sure to see the flat Cranberry Server. The Shell Serving Spoon usually measures ten inches in length.