Cadence Cobalt
Porcelain Dinnerware by Mikasa
Cadence Cobalt casual dinnerware by Mikasa brings a fresh, contemporary look to your table with porcelain pieces featuring bold color rims and zigzag patterns. The solid bands resemble paintbrush strokes, giving this dinnerware a handcrafted feel, while the rich cobalt blue palette commands attention. Mix and match this pattern with Cadence Ruby and Cadence Teal.
Cadence Cobalt dinnerware is crafted from porcelain and is dishwasher and micorwave safe.
The dinner plate measures 10-3/4 inches; the salad plate measures 8-1/2 inches; the cereal bowl measures 6 inches; the mug holds 14 ounces.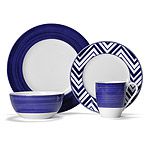 Larger Image
Mikasa - Cadence Cobalt Dinnerware
4pc Place Setting Includes:
Dinner Plate
Salad Plate
Cereal Bowl
Mug
16pc Set Includes:
32pc Set Includes:
48pc Set Includes: