Siena
Earthenware Dinnerware by Mikasa
Siena casual dinnerware by Mikasa adds a bold touch to any tabletop with a vibrant pattern of repeating geometrical shapes and lines in a stunning shade of blue. The combination of retro art deco and hand-painted styles creates depth and movement, and each piece has a distinct design, resulting in a look that is unique and contemporary. 
Siena dinnerware is crafted from earthenware and is dishwasher and micorwave safe.
The dinner plate measures 10-1/2 inches; the salad plate measures 8-1/2 inches; the cereal bowl measures 6 inches; the mug holds 12 ounces.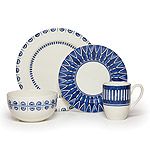 Larger Image
Mikasa - Siena Dinnerware
4pc Place Setting Includes:
Dinner Plate
Salad Plate
Cereal Bowl
Mug
16pc Set Includes:
32pc Set Includes:
48pc Set Includes: