Denby Jet Stripes Stoneware
Jet combines bold, gloss black with soft dove grey for a smart urban feel. Modern yet luxurious, with subtle shapes and cutting edge accessories. It's easy to tailor the look to suit your space. Combine with Jet to complete the look.

Why Denby? Distinctive shapes, a wide choice of colors and textures, and the highest standards of English craftsmanship for nearly 200 years. Denby stoneware is exceptionally durable, and save for use in the oven, microwave, freezer, and dishwasher.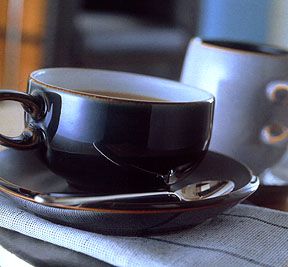 4pc Place Setting Includes:
Salad Plate
Dinner Plate
Soup/Cereal Bowl
Large Curve Mug
16pc Set Includes:
32pc Set Includes:
48pc Set Includes: