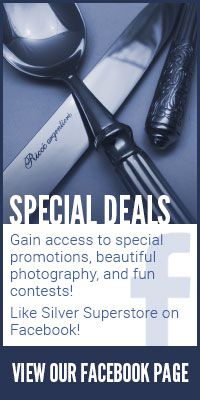 Our Return Policy
THE BASICS
Customers may return or exchange items purchased from us within 30 days after receiving delivery. Orders placed between November 1st and December 31st may be returned through January 31st. Items returned must be in the original packaging, and in its original, unused condition (for example, if you run it through the dishwasher, it's considered used). Returns that do not meet these criteria will not be accepted for refund or exchange. Returns purchased with a credit card can only be refunded to the original credit card. Sorry, but we do not refund shipping charges or gift wrap. Items that are engraved are not returnable for refund or exchange.
For Canadian orders: We are not able to provide return labels. All returns from Canada will be the responsibility of the customer.
WHERE TO SEND YOUR RETURN
Please ship your returns to:
Silver Superstore
C/O Returns
7841 S 180th St
Kent, WA 98032
IF YOUR ORDER HAS A PROBLEM
If you receive an item with a defect, we will send you a prepaid return label to exchange the item. We do require that you notify us within 30 days of receiving the product to report any damage, defects, shortages, or incorrect items. After 30 days, we'll help you work with the manufacturer on an exchange.
RETURNS OVER $500
Cumulative returns over $500.00 in value are subject to a 15% restocking fee. The restocking fee is usually (but not always) waived for exchanges that do not require a refund. Please contact us for high-value exchanges.
INTERNATIONAL SHIPMENTS
International shipments (outside the 50 United States) that are refused by the receiver will incur a charge for the return shipment costs to our location. This charge will be based on the actual charge to return the shipment to our warehouse.
ORDERS PURCHASED WITH A GIFT CERTIFICATE
Items purchased with a gift certificate that are returned will be given store credit. Items returned that include a gift certificate offer must include the gift certificate, or the items purchased with a gift certificate to receive full credit. If your purchase includes a "free with purchase" item, that item must also be returned for you to receive a refund or exchange.