Chantilly Baby Collection
Sterling Silver Children's Flatware by Gorham
Gorham Chantilly Sterling Children's Flatware is the most popular sterling silver pattern since its introduction. You may also like Joan of Arc by International.All items are made entirely in sterling silver (except for the stainless steel knife blade in the 3-pc Child's Set).
We offer personalization! Scroll down for more info.
Due to the small size of the handle, we can only engrave a single letter.
Sale prices cannot be combined with any other promotion or discount.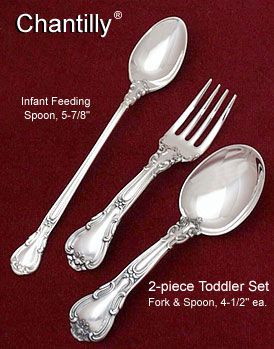 2-pc Toddler Set Includes:
Toddler Fork
Toddler Spoon
3-pc Child Set Set Includes:
Child Fork
Child Knife
Child Spoon
Personalize your child's flatware!
All engraving will be sized appropriately to fit your item, and the price includes however many letters and numbers we can fit on one side. Please allow 2-3 business days for engraving, or please call us to order if you need an item engraved within 24 business hours. Engraving on the Infant Feeder or single items is currently on sale for $7.75. Engraving on a two piece set is on sale currently for $14.50, and a three piece set is on sale right now for $24.95.
To add engraving to an item, simply add it to your Shopping Cart, and click on the engraving option listed below the item.
Click on any style to see the complete alphabet!

Style 22
(3 letters only)

Style 340
Greek Letters

Style 356
(1 or 3 letters)

Style 410
(Monogram, same as Style 310)

Style 500
Alex Brush

Style 510
BodoniXT

Style 520
Oswald

Style 530
Burnstown Dam

Style 540
Geotica

Style 550
Monoton