Porringers " Feeding Bowls For Babies
When searching for the perfect baby gift, you may not think of porringers or feeding bowls right away. You might first think of silverware for baby; so why not also give a feeding bowl to go with that silverware?
We offer porringers in sterling silver, silver plate, pewter, stainless steel and melamine. No matter what your budget or style is, we are sure you will find just the right one. Porringers or feeding bowls make wonderful gifts for baby showers, christenings and birthdays.
Would you like some assistance picking out baby or child silverware to go with the porringer? You can browse our extensive collection of sterling silver, silverplate and stainless flatware for baby and child. Our knowledgeable staff is also here to help you over the phone by calling 1-800-426-3057.
Click through for a complete list of porringers and feeding bowls that are made in the USA.

Sterling Silver and Plate Bowls
by Reed & Barton, Godinger and Empire Silver
$16.95 - $259.95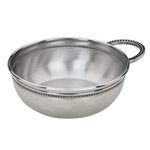 Pewter Bowls
by Woodbury Pewter, Reed & Barton and Empire Silver
$39.95 - $64.00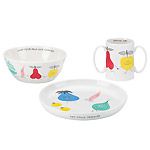 Stainless Steel, Melamine
and Sandcast Aluminum Bowls and Sets
by Reed & Barton, Mariposa and kate spade new york
$24.00 - $59.95

---
History of the Porringer
Porringers were brought to America from Europe by the early colonial settlers. Traditionally, they were used to eat soft foods such as porridge, gruel or stew. Today, the most common use is for babies and small children as they mature in the process of feeding themselves. Originally, porringers and feeling bowls looked much like they do today with features such as a shallow bowl and one or two flat handles. Some manufacturers, like Reed and Barton, have modernized the style of some of their porringers to blend with current home styling trends, such as the Baby Beads bowl above.