Silver Baby Rattles
Celebrate the arrival of a newborn with a timeless heirloom. All rattles on this page are made entirely in sterling silver or finished in silverplate, which provides a cool sensation for baby's aching gums. Most rattles can be engraved, and all come in their own gift box.
We also carry rattles in pewter.
Click on any Silver Baby Rattle for complete info!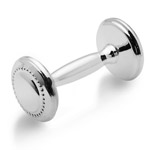 Beaded Dumbbell Rattle
Sterling silver
by Empire Silver
$124.95
$99.96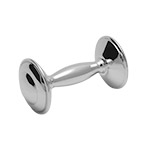 Plain Barbell Rattle
Sterling silver
by Cunill
$119.95
$104.95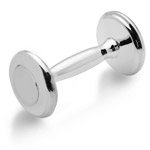 Classic Rattle
Sterling Silver
by Empire Silver
$124.95
$99.96
---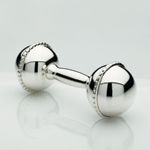 Pearls Rattle, two sizes
Sterling silver
by Cunill
$149.95 - $269.95
$114.95 - $209.95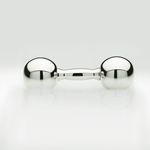 Plain Dumbbell Rattle, two sizes
Sterling silver
by Cunill
$149.95 - $269.95
$114.95 - $209.95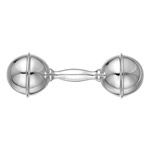 Bristol
Sterling silver
by Reed & Barton
$335.95
$279.95 + FREE ENGRAVING
---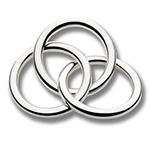 3 Ring Rattle
Sterling Silver Rattle
by Cunill
$184.95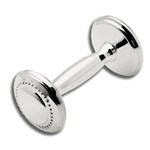 Beaded Barbell Baby Rattle
Sterling Silver
by Cunill
$119.95
$104.95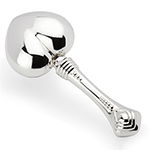 Heart Rattle
Sterling Silver Rattle
by Cunill
$129.95

---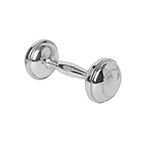 Salisbury Sterling Silver Beaded Dumbbell Rattle
by Salisbury
$192.95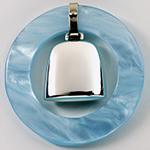 Teething Ring Rattle, Blue
Sterling silver
by Salisbury
$70.95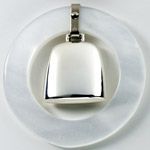 Teething Ring Rattle, White
Sterling silver
by Salisbury
$70.95
---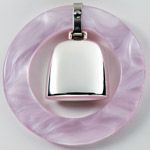 Teething Ring Rattle, Pink
Sterling silver
by Salisbury
$70.95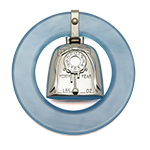 Birth Record Teething Ring Rattle, Blue
Sterling silver
by Salisbury
$70.95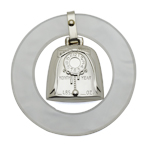 Birth Record Teething Ring Rattle, White
Sterling silver
by Salisbury
$70.95
---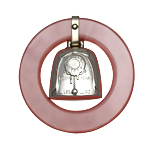 Birth Record Teething Ring Rattle, Pink
Sterling silver
by Salisbury
$70.95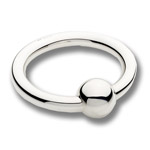 Ring with Ball Rattle
Sterling Silver Rattle
by Cunill
$109.95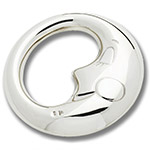 Moon Rattle
Sterling silver
by Cunill
$265.00
$238.50
---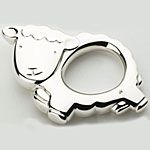 Sheep Rattle
Sterling silver
by Cunill
$198.95
$149.95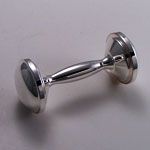 Plain Dumbbell Rattle
Silverplate
by Elegance Silver
$21.95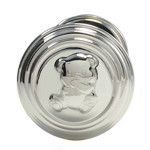 Teddy Bear Dumbbell Rattle
Sterling Silver
by Zamarella Agenti
$114.95
---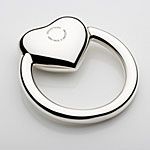 Ring Heart Rattle
Sterling silver
by Cunill
$129.95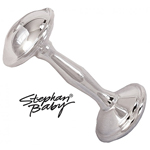 Classic Rattle
Silverplate
by Stephan Baby
$24.95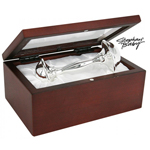 Classic Rattle w/ Rosewood Box
Silverplate
by Stephan Baby
$38.95
---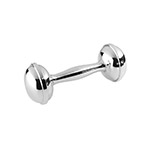 Salisbury Sterling Silver Dumbbell Rattle
by Salisbury
$190.95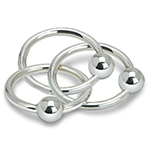 3 Ring with Ball Rattle
Sterling Silver Rattle
$229.95


Elena Heart Rattle
Sterling Silver Rattle
$175.00

---

Micaela Heart Rattle
Silver Plate Rattle
$100.00


Cassidy Rattle
Sterling Silver Rattle
$199.95


Cameron Rattle
Silver Plate Rattle
$99.95

---