Linda Jewelry Chest
Women's Jewelry Chest by Reed & Barton
This revolving double-sided jewelry chest handles maximum storage in minimum space. Doors on each side (one with mirror) have pendant hooks and catch shelves to accommodate all necklace sizes, including omegas. Swing panels with magnetic catches and interior storage areas on each side hold a multitude of jewelry, all readily visible. Base has two small drawers for earrings and rings. Jewelry not included.
* Door with mirror has earring panel to hold up to 46 pairs of earrings; also accommodates stick pins.
* Back of earring panel has two removable snap earring straps for additional earrings. Interior storage area has stretch straps, anchored in center with snaps at opposite ends, for hook or loop earrings, as well as bracelets, watches, etc.
* Opposite door, without mirror, has panel with hooks to hold delicate pendants (slip chain behind stretch straps for protection) with bottom pouch for excess chain.
* Back of panel has permanently anchored stretch straps to drape beads, bracelets, etc. Interior storage area has two snap stretch straps for bangles, etc. Bottom area is padded for pins.
* Doors open 3" above surface eliminating the need to move small bureau accessories. One door with mirror, one without, for easy identification of interiors.
Measures 9 7/8" x 9 7/8" x 16".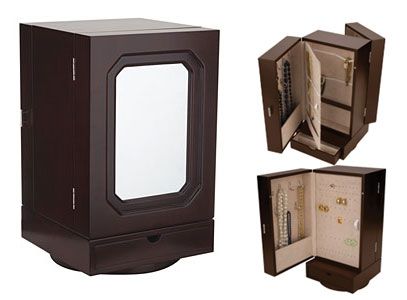 Larger Image