Andover Card Case
by Reed and Barton
During a business meeting and introductions, first impressions are lasting impressions. Your new associates will know that you pay attention to the little details with a classic silver business card case such as the Andover. This silver plated case measures 2-1/4" x 3-3/4", and includes an attractive gift box.
Personalize your silver card case! Add one to your cart to view engraving options. Click here for more info.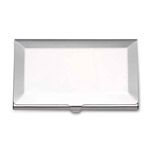 Larger Image
You may also like: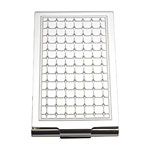 Alexandria Card Case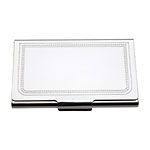 Charleston Card Case
Have your item engraved for only $7.75!
(Regularly $17.95)
All engraving will be sized appropriately to fit your items, and the price includes however many letters and numbers we can fit on one side of both the Knife and Server. Please allow 2-3 business days for engraving, or please call us to order if you need an item engraved within 24 business hours.
To add engraving to an item, simply add it to your Shopping Cart, and click on the engraving option listed below the item.
Click on any style to see the complete alphabet!

Style 22
(3 letters only)

Style 340
Greek Letters

Style 356
(1 or 3 letters)

Style 410
(Monogram, same as Style 310)

Style 500
Alex Brush

Style 510
BodoniXT

Style 520
Oswald

Style 530
Burnstown Dam

Style 540
Geotica

Style 550
Monoton