Sweetheart Star Ornament
Sterling Silver Christmas Ornament from Hand & Hammer
It is easy to see how Hand and Hammer came up with the name, Sweetheart Star for this sterling silver Christmas ornament. Diamond and heart shapes interlock to create a delicate star. Consider giving this silver ornament to a special couple in your life who may be celebrating their first, fifth or fiftieth Christmas together. This sterling silver ornament is gift boxed and hand made in the USA.
Ornament measures 2 1/2" in diameter.
Personalize this ornament with an engraving tag for $12.75. Simply add the ornament to your Shopping Cart, and click on the engraving option listed below the item.
About Hand and Hammer Silversmiths
Hand and Hammer Silversmiths was founded in 1979 by Chip deMatteo, his father, Bill deMatteo and Phil Thorp. The deMatteo family has a long history of silversmithing beginning with Bill's father who was a leading silversmith in New York. Bill deMatteo learned the art of silversmithing at his father's studio. When he left his father's studio, he became the Master Silversmiths at Colonial Williamsburg. Bill deMatteo's talents were also recognized by the American Institute of Architects which awarded him its Gold Medal. In 1975 he was the first American silversmith inducted into the Goldsmiths' Company in London.
Over the years, Hand and Hammer has been commissioned to design and make presentation silver for every US president since John F. Kennedy, for whom Bill deMatteo reproduced the famous Paul Revere lanterns to hang in the Oval Office. Presentation silver has also been made for many foreign dignitaries as well.
Today, Hand and Hammer still produces each piece of silver by hand at their location in Virginia.
Don't forget about: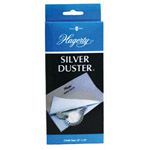 Hagerty Silver Duster
Silver Polishing Cloth
by Hagerty
$8.95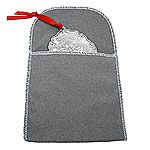 Storage Bag
4" x 4" Silver Storage Bag
by Reed and Barton
$4.95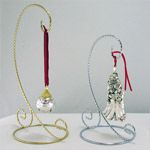 Christmas Ornaments Stands
Gold, Silver and Clear Stands
Each color available in two sizes
$4.95