Silver Serving Trays
Silver serving trays are still a hallmark of elegance, even if we have become significantly more casual in recent years. Click on your tray of interest for more information!
Have your serving tray engraved to make it the perfect wedding present or corporate gift!
We have many serving trays and platters available in many different styles and sizes. Choose from brands like Reed & Barton, Nambe, Godinger, Wilton Armetale, Salisbury, and others.
Sterling Trays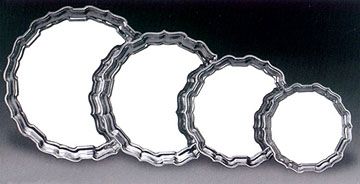 Chippendale Trays by Reed & Barton
with handles
3 sizes available
All Discontinued
Click here for details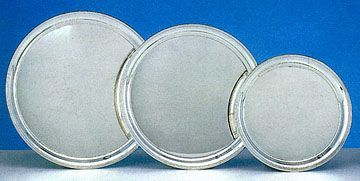 Round Trays by Empire Silver
with handles
$1199.95
$959.96
Click here for details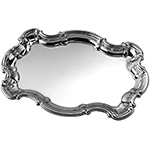 Chippendale Trays by Salisbury
2 sizes available
$489.95 - $865.96
Click here for details
---
Silver-Plate Trays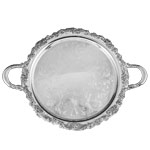 Burgundy by Reed & Barton
Handled Tray, 15"
$250.00
Click here for details


Burgundy by Reed & Barton
Oval Tray, 16" - $260.00
Round Tray, 13" - $275.00
Click here for details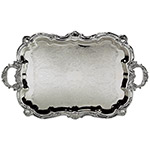 Baroque by Elegance Silver
18" x 30" Baroque Tray
$130.00
Click here for details
---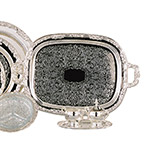 Rectangular by Elegance Silver
23" x 15" Rectangular Tray
No Longer Available


Single-Handle Vertigo Tray by Christofle
8" x 6"
$360.00
Click here for details

Vertigo Small Tray by Christofle
8" x 6"
$390.00
Click here for details
---

Vertigo Tray by Christofle
10.2" x 7.8"
$750.00
Click here for details

Vertigo Large Tray by Christofle
17" x 12.2"
$990.00
Click here for details

Vertigo Extra Large Tray by Christofle
20.8" x 16.5"
$1550.00
Click here for details
---

Vertigo Business Card Tray by Christofle
12.5cm x 9cm
$200.00
Click here for details

Vertigo Mail Tray by Christofle
10" x 6"
$470.00
Click here for details

Vertigo Bottle Carafe/Coaster by Christofle
$215.00
Click here for details
---

Vertigo Large Round Serving Tray
by Christofle
15" Diameter
$850.00

Silver Time Silver-Plate Cake Dish
by Christofle
10" x 6"
$560.00

Silver Time Silver-Plate Square Serving Tray
by Christofle
8-7/8" x 8-7/8"
$360.00
---

Silver Time Silver-Plate Rectangular Serving Tray
by Christofle
16-1/2" x 12-5/8"
$850.00

Silver Time Silver-Plate Round Platter
by Christofle
35.5cm
$850.00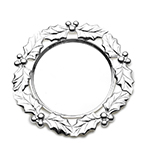 Holly & Berry Tidbit Plate
by Mikasa
$19.95
---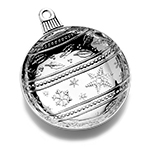 Ball Ornament Candy Dish, 6.3" x 5"
by Mikasa
$12.95

Malmaison Circle Tray, Large 13 1/2"
by Christofle
$1280.00

Malmaison Oval Tray with Handles, 20.3" x 16.5"
by Christofle
$2480.00
---

Malmaison Rectangular Tray with Handles, 17" x 12.2"
by Christofle
$1980.00

Malmaison XXL Rectangular Tray with Handles, 17" x 12.2"
by Christofle
$2450.00

Albi Rectangular Tray with Handles, 17" x 12.2"
by Christofle
$1180.00
---

Albi Large Rectangular Tray with Handles, 20.8" x 16.5"
by Christofle
$1930.00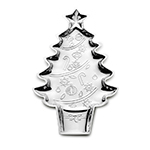 Christmas Tree Cookie Plate
by Mikasa
$19.95
---
Pewter Trays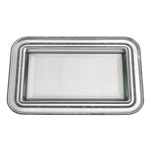 Thomas O'Brien August by Reed & Barton
Three Sizes Available, Pewter Plate
$150.00 - $225.00
Click here for details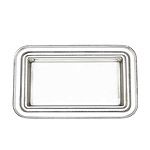 Banded Bead by Reed & Barton
One Size Available, Pewter Plate
$199.00
Click here for details

Chippendale by Salisbury
Four Sizes Available, Pewter
$93.00 - $260.00
Click here for details
---
Nickel Plate Trays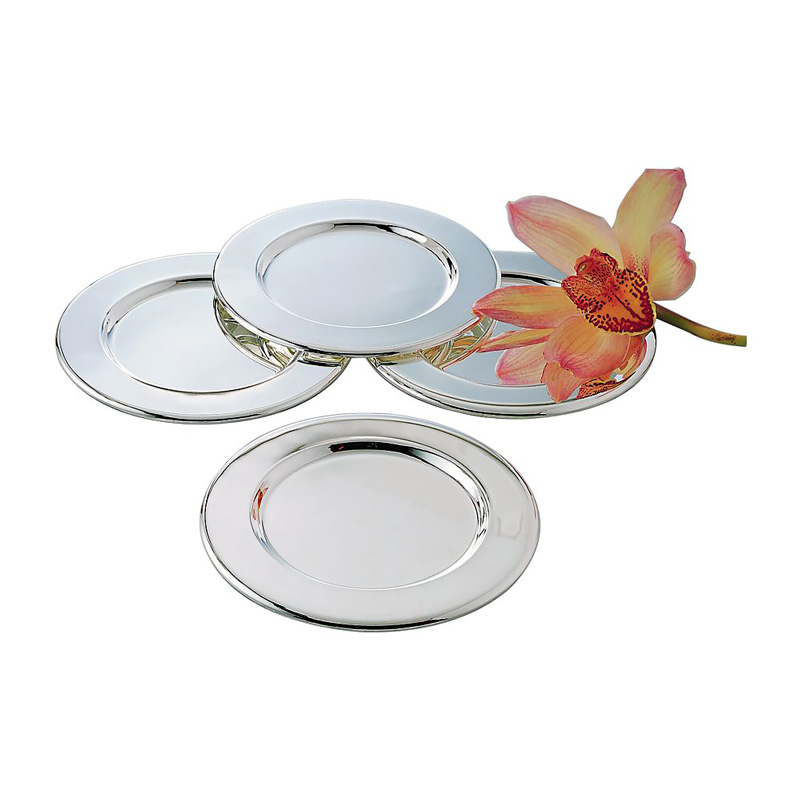 Round 6" Tray by Sheridan
Nickel Plate
$24.95
Click here for details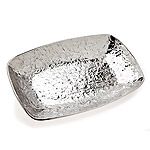 Lava Collection Rectangular Tray by Godinger
Nickel Plate
$69.95
Click here for details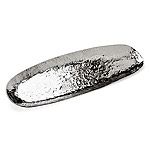 Lava Collection Oblong Tray by Godinger
Nickel Plate
$69.95
Click here for details
---
Stainless Steel / Aluminum / Other Trays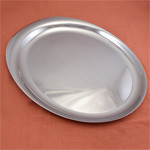 Tantalyn by Yamazaki
Stainless Steel Tray
$89.95
Click here for details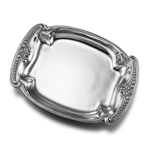 Belle Mont Bread Tray by Wilton Armetale
Aluminum / Armetale® Tray
$34.95
Click here for details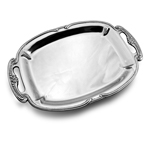 Belle Mont Handled Tray by Wilton Armetale
Aluminum / Armetale® Tray
$79.95
Click here for details
---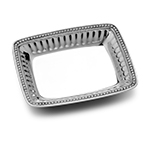 Flutes & Pearls Bread Tray by Wilton Armetale
Aluminum / Armetale® Tray
$29.95
Click here for details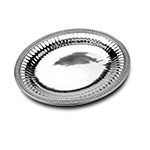 Flutes & Pearls Medium Oval Tray by Wilton Armetale
Aluminum / Armetale® Tray
$59.95
Click here for details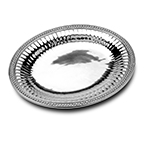 Flutes & Pearls Large Oval Tray by Wilton Armetale
Aluminum / Armetale® Tray
$99.95
Click here for details
---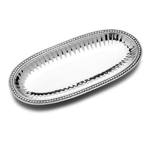 Flutes & Pearls Long Narrow Tray by Wilton Armetale
Aluminum / Armetale® Tray
$49.95
Click here for details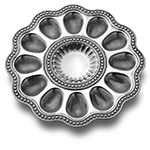 Flutes & Pearls Egg Tray by Wilton Armetale
Aluminum / Armetale® Tray
$49.95
Click here for details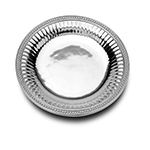 Flutes & Pearls Medium Round Tray by Wilton Armetale
Aluminum / Armetale® Tray
$59.95
Click here for details
---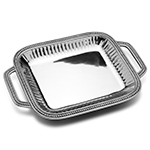 Flutes & Pearls Tray with Handles by Wilton Armetale
Aluminum / Armetale® Tray
$79.95
Click here for details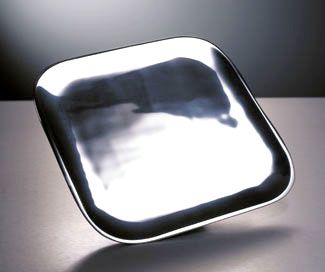 Square Plate by Nambe
Two Sizes Available
Aluminum / Alloy Tray
$88.95 - $119.95
Click here for details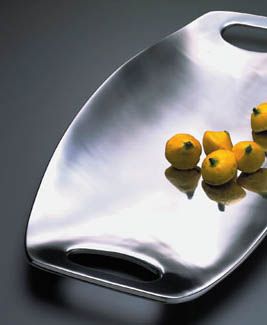 Handled Tray by Nambe
Two Sizes Available
Aluminum / Alloy Tray
$124.95 - $274.95
Click here for details
---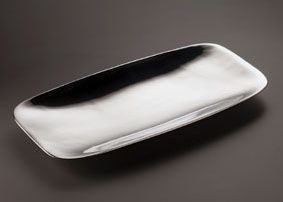 Marupa Platter by Nambe
9.5" x 18"
Aluminum / Alloy Tray
$194.95
Click here for details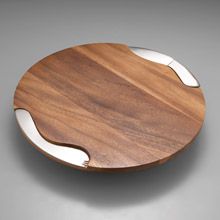 Cheese Block with Knife and Server by Nambe
Aluminum / Stainless Steel / Acacia Wood
$99.95
Click here for details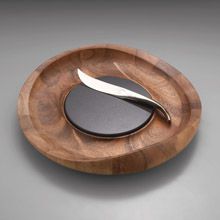 Butterfly Cheese Tray with Knife by Nambe
Granite / Stainless Steel / Acacia Wood
$124.95
Click here for details
---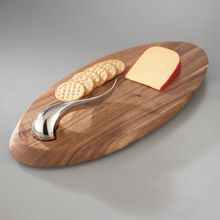 Swoop Cheese Board with Knife by Nambe
Stainless Steel / Wood
$88.95
Click here for details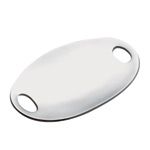 Pebble Tray by Nambe
Alloy
$98.95
Click here for details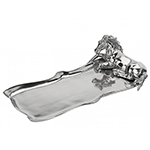 Horse Figural Oblong Tray by Arthur Court
Alloy
$125.00
Click here for details
---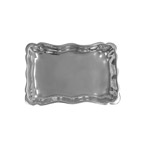 Chippendale 6" x 4" Tray
Aluminum
$34.00
Click here for details

Mood Nomade Round Tray
Steel and Leather
$504.00
Click here for details

Mood Party Tray
Stainless Steel and Walnut
$985.00
Click here for details
---

OH DE Christofle Appetizer Plate
Stainless Steel
$300.00
Click here for details
---