Introduction to Sterling Silver Flatware
If you've landed on this page, you're probably curious about sterling silver flatware, but perhaps you don't want to seem ignorant. Worry not, dear friend; we're here to help. Here's the least you need to know:
What is sterling silver flatware?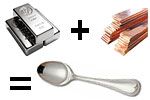 An alloy, containing 92.5% pure silver, 7.5% copper
Copper is there to give it strength, since pure silver is too soft
To be marked "Sterling", it must have a minimum of 92.5% pure silver
Sometimes you'll see on older pieces the mark "925"
What kind of pieces do I need?
Mostly, you need place settings and serving pieces. Probably between 4 and 12 place settings.
Which serving pieces are up to you, depending on the foods you like to serve.
Piece number 5 in the "5-piece Place Setting" is the soup spoon next to the knife.
How do I know what pattern to pick?
Pick the one you like the best; you're going to have this flatware for a long time
Most manufacturers have the same high level of quality
The biggest difference in patterns are those by Ricci and Ercuis, which use higher quality blades and have a lot more time spent in the finishing process
Call us and ask! We handle all of these patterns, and are very familiar with them:


1-800-426-3057

, and we're open Mon-Fri, 7am-5pm Pacific
How do I keep this stuff clean? Is it a pain to polish it?
Sterling silver flatware will tarnish if you don't use it regularly
You can avoid this by storing it in a chest, or in silver storage bags
If you give it a once-a-year polishing with our easy polishing gloves, it takes very little time
You can put it in the dishwasher, but we don't recommend it, for the same reason we don't recommend you take your Bentley through the gas station car wash. More care tips
That wasn't so bad, was it? If you have any questions, we're always happy to answer them for you.


1-800-426-3057

, Mon-Fri, 7am-5pm Pacific