Chef Quality Kitchen Knives: Experts Weigh In on the Best in the Business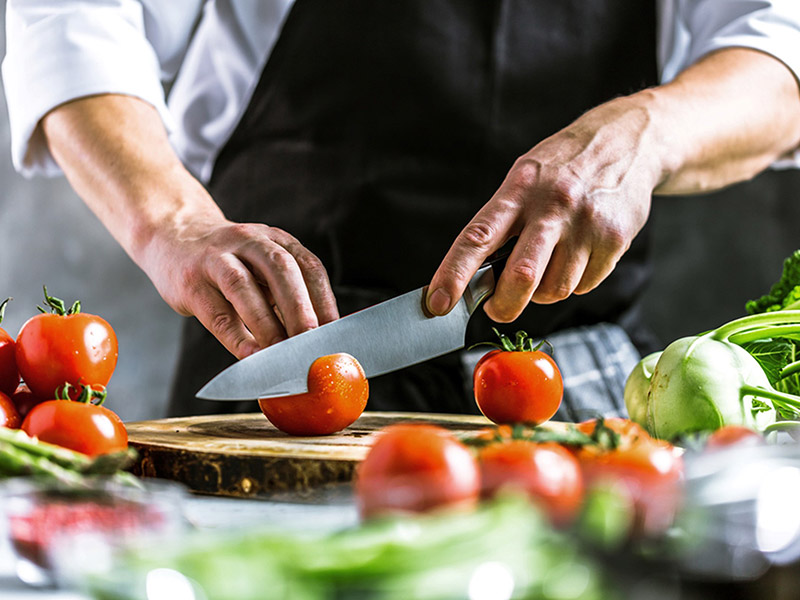 There's a lot to consider when you're in the market for a quality chef knife–but what does it mean to choose the "right" chef knife? And how important is it to buy quality knives, really? Renowned Singaporean chef Justin Quek is credited with stating, "First, knife skills. Then, knowing how to control heat. Most important is choosing the right product… the rest is simple."
Choosing the right product sounds easy enough, but what do you actually need to look out for when you're looking to purchase quality kitchen knives?
"In general, there are three qualities that I look for in a chef's knife: quality of materials, sharpness, and balance," explains Michail Korovin, chef and caviar connoisseur. "Quality of materials is important because you want the knife to be durable and hold its edge well. Sharpness is key because you want the knife to be able to easily slice through whatever you're cutting. And balance is important because a well-balanced knife is easier and more comfortable to use."
Materials like high-quality stainless steel should be a priority, and testing whether or not the knife can easily slice through paper is a quick way to determine the sharpness of the knife. And when it comes to comfort, neither home cooks nor professional chefs want to experience hand cramping after doing some minor chopping and slicing. Quality kitchen knives should have ergonomic handles, and you shouldn't forget to test out the balance point of knives before purchasing them either through a pinch or thumb grip method.
No matter what recipes you'll be crafting with your chef knives, purchasing quality knives will ease your work in the kitchen and result in increased safety and better comfortability. Continue reading for tips on how to determine the difference between low and high-quality kitchen knives, and what brand the experts recommend you to purchase.
Differences between Low-Quality vs. High-Quality
All chef knives are not created equally, so you need to pay special attention to the way the knife was constructed. Typically, there are general stainless steel quality differences in cutlery that make it easy to assess potential for longevity and sturdiness. The method of craftsmanship also plays a role. While strategies like stamping and drop forge are cheaper but produce serrated blades of lesser quality, hollow handle knives typically show superior performance, though they tend to be on the more expensive side.
While the construction method is just one way to tell the quality of knives, there are a variety of other aspects that are just as important to consider. Even if a knife seems high-quality right after you've purchased it, this may not be the case once you've put some use into it.
"With respect to knives, we can divide qualitative differences into two groups - those differences that you'll experience immediately while cooking, and those that will creep up on you over time," says Dennis Capone, a professional cookware evaluator with My Kitchen Toolkit. "You'll immediately notice that higher-quality knives are a bit heavier and have better weight balance. This weight and balance is really important, and relates directly to ergonomics and comfort when cooking."
While these fall into the first category of immediate differences that gourmets may notice, there's also a slew of long term issues that will threaten a chef's patience with their knife and eventually lead to a constant turnover of materials.
"Low-quality knives may be super sharp right out of the box, but they won't retain an edge like a higher-quality Henckels, and you'll need to sharpen it far more often," Capone continues. "Low-quality knives are also far more prone to chipping and snapping at the bolster, something I experienced first hand when testing out a low-quality chef's knife recently."
Taking all of this into consideration, you can be better equipped to purchase quality kitchen knives that will retain sharpness and endure over the coming years. Even though higher-quality typically means premium pricing, many find that it's worth the cost for better comfortability, efficiency, and safety.
So, what's considered a high-quality knife in the culinary world? One of the premier selections among professional chefs and gourmets, which Capone mentioned, are Henckels chef knives. There are many products in the market today that are seemingly identical and promise to remain sharp for years to come, but Henckels chef knives leverage trusted German manufacturing practices to produce quality kitchen tools that actually meet culinary professionals' standards.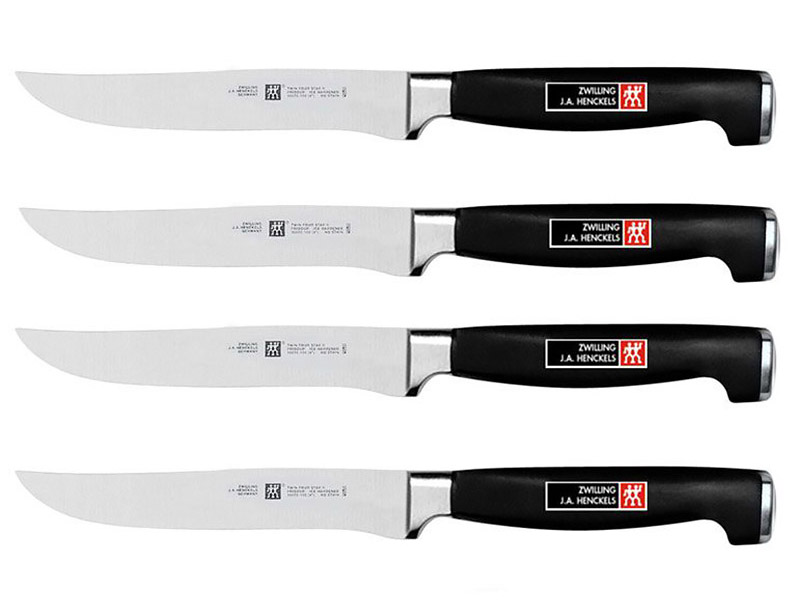 Shop All Henckels
"Henckels knives are considered some of the best knives in the industry because they are well-engineered, and last a long time if cared for correctly," states Jessica Randhawa, head chef and recipe creator at The Forked Spoon. "I love that when I sharpen my older Henckels knives, they feel, chop, slice, and cut like they are brand new knives. The Henckels Classic Precision 8 inch Chef's knife is a great knife, but like any knife be sure to keep it sharpened."
It's not just Randhawa who feels this strongly about the superiority of Henckels knives. Continue reading for a look into what makes Henckels so different from other chef knives, and what other experts in the field have the say about them.
Why Henckels?
So what separates Henckels apart from other chef knives? According to Melissa Collins, chef and food scientist at Perfect Brew, there are a few reasons Henckels knives are considered superior. Among other factors, she points out that their knives are sharpened to a 15-degree angle on both sides, they are lightweight and durable, and that the blade is made out of quality German stainless steel.
Henckels offers a variety of chef knives in a number of sizes, so they have the perfect knife to be added to anyone's kitchen toolkit. Take the Pro Series, for instance, which are crafted for the culinary expert spending hours in the kitchen each day. It's the highest price point at Henckels, but it's considered the most efficient. For the more casual, at-home cook that wants to keep within a budget, the Twin 4 Star II is a perfect choice for those with practical needs.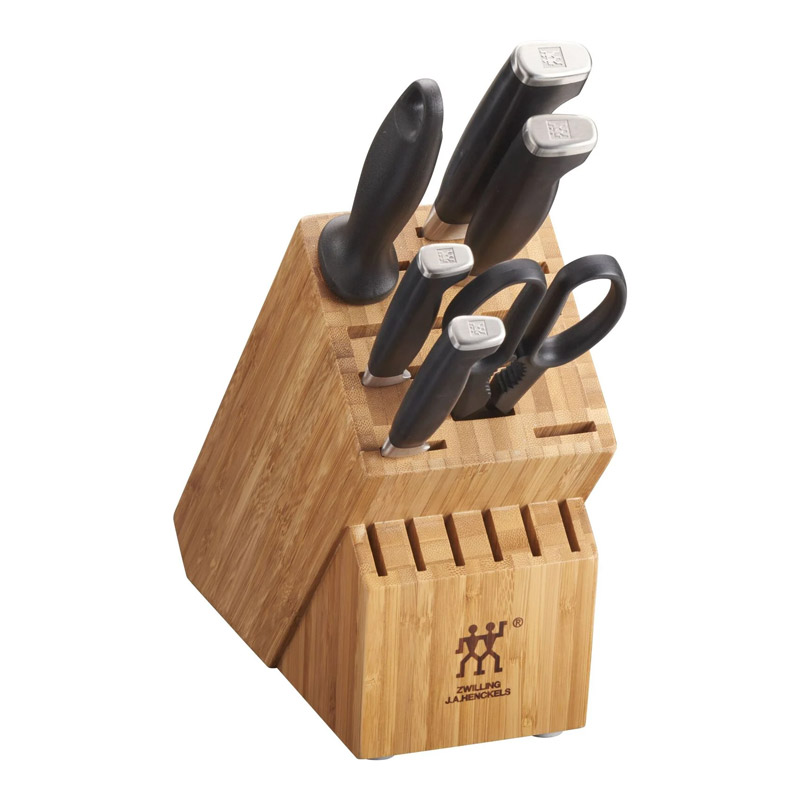 Shop Twin Four Star II
"Henckels chef knives are popular because they make chopping so comfortable," says Aysegul Sanford, food blogger for Foolproof Living. "Their sharp blade ensures there is no dragging when you cut. They are well-balanced and sturdy to make chopping effortless. You can use them for a variety of cutting which makes them an excellent investment for your culinary toolbox. I like that they require minimal sharpening, they last a long time and can be used for both fineer and chunkier slicing so there is less need to switch between different knives when prepping a meal."
All Henckels blades are sharpened to a hardness of 57 on the Rockwell scale, and the main difference between each series is the handle construction. The handle shape for the Pro Series is ergonomic with a rounded butt end and is made out of ABS, while the Twin 4 Start II is ergonomic with a flat butt end and is made out of polypropylene. Both of these materials are commonly used in the industry and are lightweight and durable, though the rounded end of the Pro Series is similar to what is standard in other premium knives, and helps secure the hand during usage.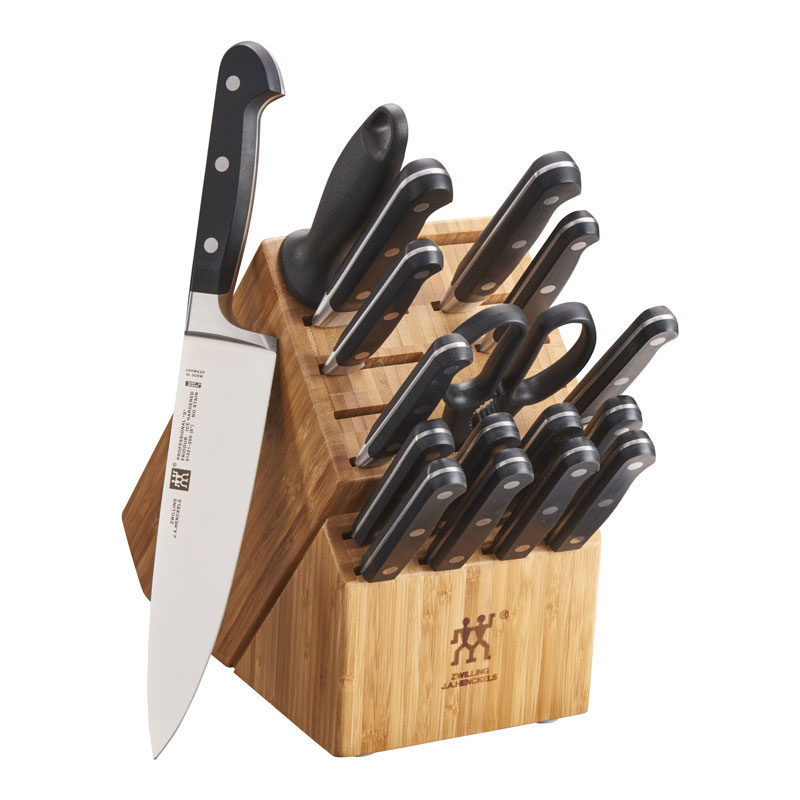 Shop Twin Pro S Series
Other differences include the Pro Series having exposed rivets, compared to the concealed rivets in the Twin 4 Star II knives, which has no practical implications other than the look and aesthetic of the knives. Additionally, the Pro Series has a half bolster and fully exposed tang while the Twin 4 Star II has a full bolster and fully concealed tang. The half bolster of the Pro Series is preferred by many seasoned chefs, as it helps to chop, dice, and slice with ease, while the full bolster of the Twin 4 Star II offers better protection for the less-experienced user.
"I like the way [a Henckels knife] feels in my hand, and the seamless balance of the blade, knowing that my knife won't let me down gives me the confidence to do whatever I need to do, time after time," says Christina Russo, Creative Director of The Kitchen Community. "And once you've used a Henckels knife in the kitchen, no other blade will ever do. As far as I'm concerned, it's Henckels or nothing."
Conclusion
The praise for Henckels by Zwilling shown here is a hallmark of German-manufactured knives. Often compared to Japanese knives, German knives are known for their sharpness and durability. With less worry that they will chip or break, German knives can endure for years with the proper upkeep. Made of stainless steel, German knives, like any, will need to be sharpened frequently to stay in tip-top shape, though the quality that they bring is unmatched and worth the regular maintenance.
Like Sanford noted about Henckels, German knives are often preferred for their multipurpose nature, allowing one knife to be used for a variety of cutting and chopping tasks rather than needing a specific knife for each unique use. Plus, German knives are generally not prone to rusting due to higher chromium levels in the steel, which makes them even safer to use in a kitchen environment.
In any case, the experts have spoken, and Henckels blades rank among the best when it comes to quality chef knives.
"A good chef's knife is one of the most important tools in the kitchen," Capone enthuses. "It's an item that I use every day, and for that reason, I think of a high quality chef's knife as a smart and valuable investment, and one that will pay me back with delicious meals for years to come. When recommending a good chef's knife, I always tell clients to start with their hands. What I mean to say here is that you need to go with the knife that you anticipate being the most comfortable in your hands. Comfort is, in my opinion, the most critical factor in selecting an appropriate knife, because it will directly impact how well you are able to wield that knife."
Next Question: How to clean pewter?
Or click here to return to the main FAQ page.