Place Setting Pieces
A wide variety of functional and unique place setting pieces are available in your pattern! Call toll-free for information on availability, or send an email.
1-800-426-3057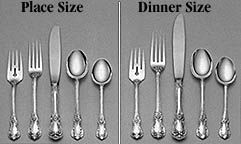 5-pc Place Setting; Place and Dinner Size
5-pc Place Setting; Place and Dinner Size
Only the entree fork and knife are different, with about a 1/2" difference in most patterns.
Average lengths for Place and Dinner Settings (tip to tip):
Place Fork: 7" to 7 1/8"
Dinner Fork: 7 1/2" to 7 7/8"
Place Knife: 9" to 9 1/8"
Dinner Knife: 9 1/2" to 9 3/4"
---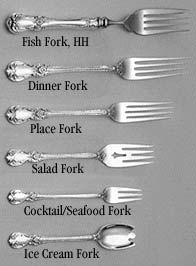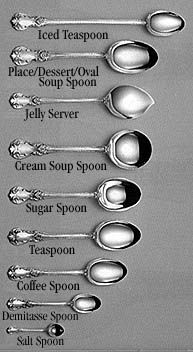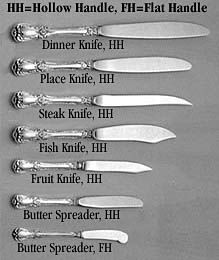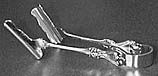 Individual Asparagus Tongs
Available in: Old Colonial (shown), Francis I, Love Disarmed, Georgian


Strawberry Fork
Use for berries and small fruits.
Available in many patterns
(Gerogian shown).
---


Click above to return to the main Silver Piece Guide page.


Click above to view our guide to sterling silver serving pieces