Stainless Steel and Other Baby Cups
Made by Reed & Barton, Mariposa, Lenox, Godinger
A silver baby cup is a timeless gift; but don't think that the cup has to be made from sterling silver to be an heirloom. Stainless steel, sandcast aluminum and porcelain baby cups can also be those treasured, heirloom gifts. Our collection of baby cups ranges from the simple pearled handle cup by Mariposa to the whimsical fish cup by Reed and Barton. The stainless steel baby cups from Reed and Barton come with a sippy cup lid which turns a fun, decorative cup into a cup that is sure to get lots and lots of use.
Baby cups are great gifts for baby showers, first birthdays or just because. These cups can also be engraved making them even more special. Click on any cup for complete details and baby cup engraving options.
We also carry baby cups in sterling silver, silver plate and pewter.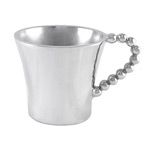 Pearled
by Mariposa
$27.95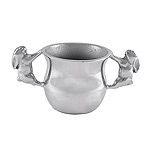 Two Handled Bunny
by Mariposa
$27.95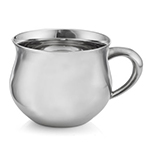 Kibo Baby Cup
by Nambe
$39.95

---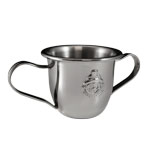 Clown
by Godinger
$17.99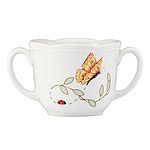 Butterfly Meadow Baby
by Lenox
$19.95

---
---
---
Don't stop with just the baby cup. Make the gift complete with flatware for baby in stainless steel or other materials. Or, perhaps you would like to give a rattle, porringer, brush set or other baby item. We have a full collection of gifts for baby to choose from from top quality, well respected manufacturers.
If you would like some advice as to what baby gift to give our helpful staff is here for you. All you have to do is give us a call at 1-800-426-3057 or send us an email to mail@silversuperstore.com.