Mint Julep Copper Cups
A TASTE OF HISTORY: The Julep or "sweet drink" is deeply rooted in Southern customs and culture. Seen as a symbol of achievement, esteem and prestige, the historical Mint Julep cup has been used for hundreds of years to commemorate all of life's celebratory moments.
These Copper Julep Cups have a 12oz capacity. They are available in a Beaded version with a smooth finish or hammered finish. Also available in sets of 4. Click below for more information.
Click here for sterling silver mint julep cups
Click here for silverplated mint julep cups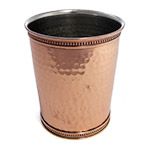 Hammered Copper Cup
Mint Julep Cup
by Mikasa
$24.95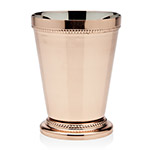 Beaded Copper Cup
Mint Julep Cup
by Godinger
$29.95
$23.95